Fujian Province
Background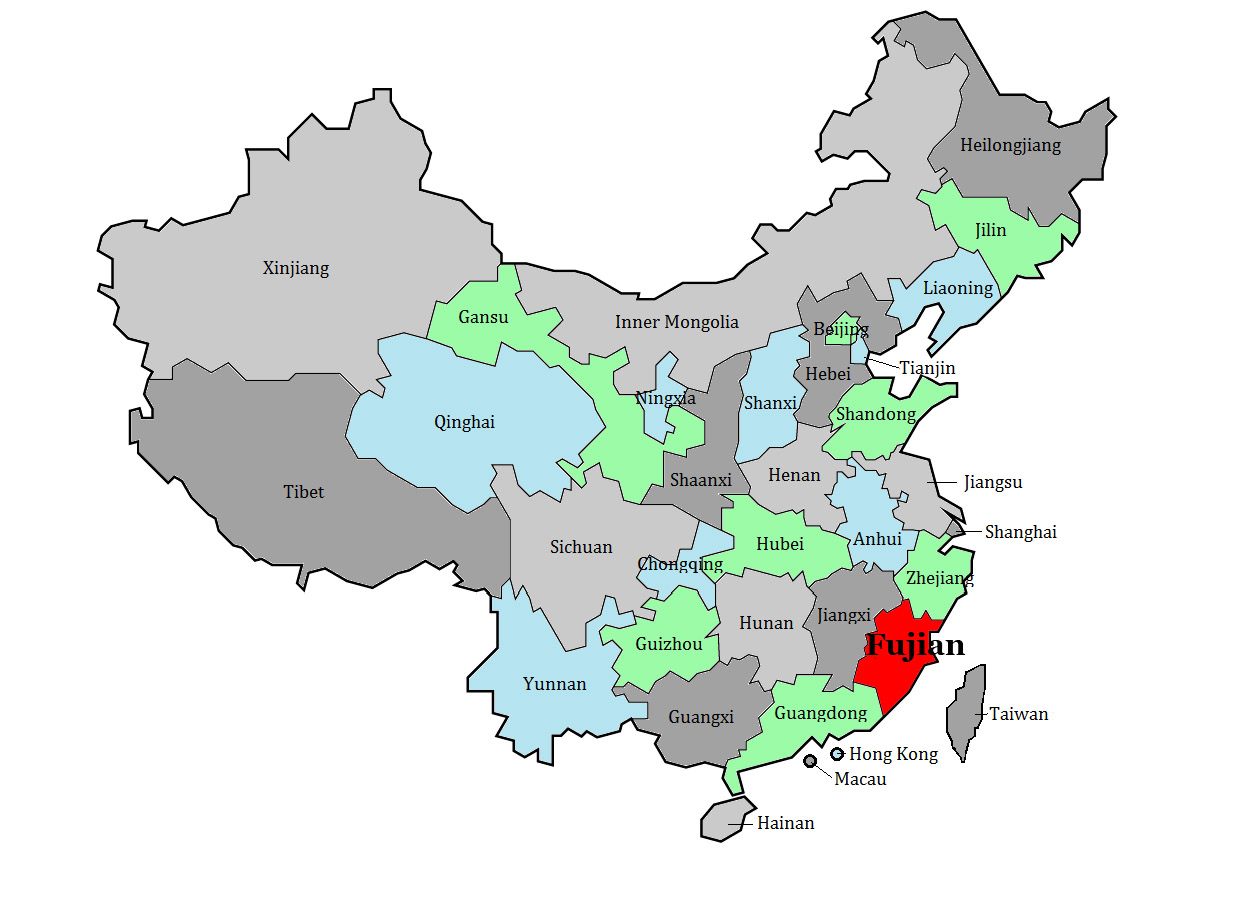 Bordered by Zhejiang to the north, Jiangxi to the west, and Guangdong to the southwest, Fujian spans an area of about 121,000 km2, making it roughly the size of North Korea. Fujian sits on the east coast of China, facing Taiwan across the Taiwan Strait.
Fujian became part of the Chinese Empire during the Qin Dynasty, but after the Qin's fall, the region reverted back to a tributary kingdom until it was loosely reintegrated into the Han Dynasty about 100 years later.
Thereafter, the region remained within the Chinese domain, sometimes as tributary kingdom, sometimes as a part of the Chinese empire, until the Song Dynasty firmly integrated it into its empire. The 4th century CE saw a wave of immigration into Fujian. Today, four of those extended families who came – the Lin, Chen, Zheng and Huang – make up the majority of surnames in the province.
Fujian's coastal location has meant that maritime trade has always played an important role in its history and economy. The Fujian city of Quanzhou, today a prefecture level city of approximately 8 million inhabitants, grew to be one of the world's largest ports during the Song and Yuan Dynasties. A main stopover in maritime silk route, Marco Polo talked about the city in his travel memoirs.
During the Yuan Dynasty,  Fujian was home to an estimated 100,000 Arab traders and was also an important center of shipbuilding. Later, during the Ming Dynasty, Quanzhou helped supply and stage China's largest period of naval exploration. Between 1405 and 1433, China launched seven expeditions under the command of Admiral Zheng He whose explorations took his fleet to Southeast Asia, Arabia and Africa.
A subsequent Ming-era sea ban hurt Fujian's trading position and economy. Its harbors were subsequently supplanted by ports such as Shanghai once the ban was lifted in 1550. During this time, the first Fujian peoples began migrating abroad to seek opportunity. Today, many of Chinese communities in Southeast Asia and the United States have Fujian roots, as does a large percentage of Taiwan's Chinese population.
It wasn't until after the first Opium War and the 1842 Treaty of Nanking that China was forced to re-open Fujian's port of Xiamen to foreign trade. Its economy subsequently expanded. In 1886, Taiwan was detached from Fujian and established as an independent province.
Once China's 1978 market reform began, Fujian's economy began growing rapidly. Fujian's cities of Xiamen and Fuzhou were two of the first special economic zones created. They were encouraged to attract foreign investment and to trade internationally. As a result, Fujian has profited significantly from Taiwanese, Hong Kong and other international investment.
People
In 2019, Fujian has a population of approximately 39 million people, the 15th out of 33 most populous province in the country. 98% of these residents are Han. The largest minority in Fujian is the She people, most of whom make their living through agricultural work. Other minorities include the Hui, Miao and Manchu peoples. Over half of Fujian residents now live in cities, with a majority settling in the coastal towns of Fuzhou, Xiamen, Quanzhou, and Ningde. Fujian is renowned for its migrant population, as well as being a source of a great deal of Chinese migration around the world.
Economy
According to China's National Bureau of Statistics, in 2018 Fujian's GDP was approximately $541 billion, the 8th largest in the country. Its per capita GDP was approximately $13,743. Overall, its GDP accounts for 4.1% of China's total which was generated by 2.8% of China's population. Its GDP per capita is ranked 7 out of China's 33 provinces, municipalities, and autonomous regions. As a percentage of production, 6.9% of its economic activity is derived from primary industries, 47.5% from secondary industries and 45.6% from tertiary industries.
The province's farmland is scant.  Fujian most important agricultural crops are sugarcane, sweet potatoes, wheat, barley, longan, lychees, peanuts, citrus fruit, rice and tea. By contrast, Fujian's timber reserves are more abundant, and it is one of the leading timber producers in China.
Fujian is home to approximately 86 different kinds of minerals with authenticated reserves. Some of the most significant of these minerals include gold, silver, lead, zinc, manganese kaolin, limestone, granite, alunite, pyrophyllite, sulfur, quartz-sandstone, graphite, tungsten, molybdenum, coal, iron, and copper. It also has good reserves of kaolin, used for centuries as the base ingredient for Chinese porcelain. Its iron and coal reserves support some steel production.
Its major manufacturing sectors include nonferrous metals, petrochemicals, automobile, shipbuilding, equipment manufacturing, light industry, clothing, textiles, electronics, information technology, new energy, medicine, logistics, new materials, and electricity from hydropower. It is estimated that the province still has significant hydropower capacity to be brought online; some projections suggest that only about 30% of the province's total hydropower potential has been tapped to date. Fujian is also a significant exporter of shoes, textiles, clothing, machinery, equipment, electronics, electronic products, steel sheets and biochemical plastics. Major export markets included the US, Hong Kong, Japan, the Philippines, Taiwan and Germany. Overall, Fujian's private sector generates approximately 70% of the province's tax revenue and 80% of its jobs. Given its location on the sea and its large export economy, Fujian is home to many foreign firms including Nokia, Siemens, Boeing, Dell, GE, and Panasonic.
Fujian's foreign direct investment was approximately $9 billion in 2017, up from $6 billion in 2010. Fujian is working to increase direct investment. In 2015, Fujian opened The China (Fujian) Pilot Free Trade Zone. The zone is comprised of three areas: Fuzhou, Pingtan, and Xiamen.  In particular, the zone has been developed to increase investment from Taiwan and from other foreign investors.
Lay of the Land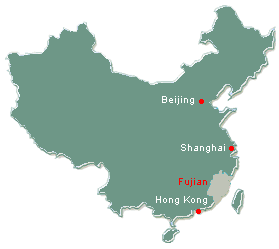 Fujian is situated in China's south eastern coast, opposite of Taiwan. The province is highly mountainous and has sometimes been described as eight-parts mountains, one-part water and one-part farmland; mountains and hilly areas cover over 80% of Fujian's land area.  The northwest of the province is highest in terms of elevation with the Wuyi Mountains creating the border between Fujian and Jiangxi provinces. Many river systems course through Fujian's mountains, the most important of which is the Min River. Its drainage area covers over 50% of the province. The upstream Jin, Futun and Shaowu Rivers all converge into the Min at Fujian's inland city of Naping, located in the center of the province. The Jiulong flows south of the Min reaching the sea at Xiamen. The Han River runs across Fujian's southwestern border.
Because of its mountainous topography, for centuries Fujian's rivers have been of vital importance to the province. The rivers have not only provided Fujian with its water, but also with its main transportation network. Fujian's first railway, for instance, was not completed until 1955 while its mountainous land also delayed the construction of its roads. That said, due to its uneven, and at times steep topography, Fujian's rivers are often banked by steep cliffs and careen down frequent rapids. In 2009, forests covered approximately 63% of Fujian's area.
Fujian's coast is jagged, curving in to form many natural harbors. Off its coast is an array of islands. Only 180 km of Strait separate Fujian from the island of Taiwan.
Interesting Aspects for a Traveler
Located on an island linked to mainland China by a 5 km causeway, the city of Xiamen became a major seaport and commercial center during the Ming Dynasty from the late 14th century onward. By the 16th century, Europeans were attempting to establish trade relations with the city. By 1750, the city was closed to foreign trade until China was forced to open it as a treaty port in 1841. Its waterfront architecture and old town reflect the history of this time, especially nearby Gulang Yu island where Europeans and Japanese built consulates and over 1000 colonial villas amongst the rabbit warren of narrow alleys.
Throughout the southwest of the province are scattered over 3,000 often extremely large, circular, tall, multi-story buildings. The architecture was designed to protect the Hakka residents – native Fujianese people who migrated to Fujian from the north during  the 4th century – from bandits. Called Tulou, these earthen towers were the olden day equivalent of apartment living. The larger Tulou could fit whole clans. 46 of the best preserved of these Tulou have now been made a UNESCO world heritage site and are Fujian's premier tourist attraction.
The fishing village of Xunpu is also just south of Quanzhou and was also a stop on the maritime silk road before traders reached Quanzhou. Interesting Oyster shell built houses are still preserved, as is the Temple of Mazu which is dedicated to sailors.
Chongwu, 50 km east of Quanzhou, has 2.5km of walls dating from the 14th century and a well preserved city center built during the Ming Dynasty as part of its defense system against Japanese pirates that harassed the coast during this era.
Wuyi Mountain, in Fujian's northwest, provides beautiful scenery and a chance to escape Fujian's coastal heat. It offers many hikes through forests, along streams and waterfalls.