Guizhou Province
Background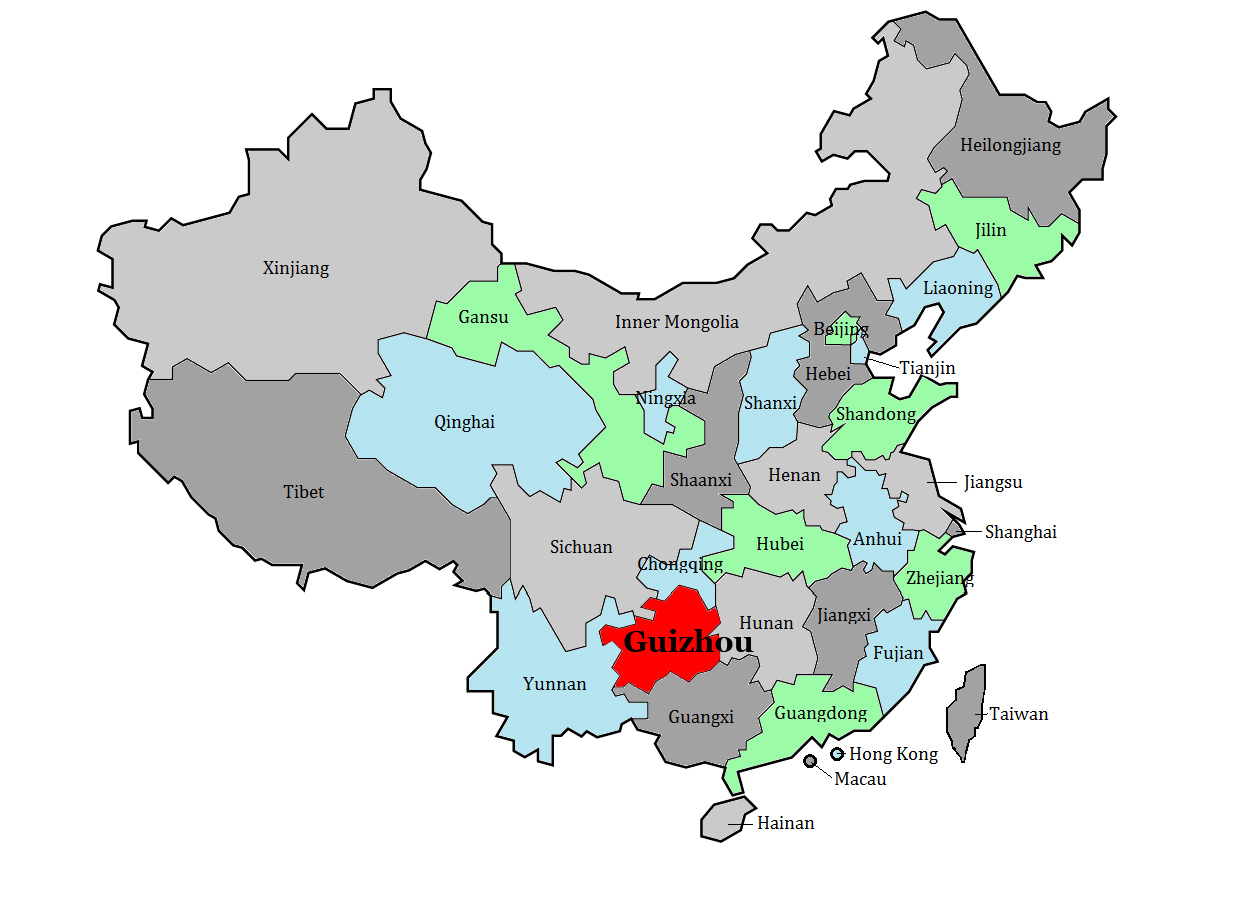 China's poorest province, Guizhou is slightly smaller than Cambodia and Uruguay, spanning a total area of around 176,000km2. Located in the country's south-west, Guizhou is bordered by Sichuan to the north, Hunan to the east, Guangxi to the south, and Yunnan to the west. Its capital, Guiyang, is located in the province's center.
A famous saying about the region is that there are "no three days without rain, no three hectares without a mountain, and no three coins in any pocket." Guizhou officially became a Chinese province during the Ming Dynasty when the Imperial Court used its more formal integration into the empire as a way to pacify the large Yao and Miao minorities living in the area.
When the Nationalists made Chongqing the capital of China during the 1937-1945 Sino-Japanese War, Guizhou was linked with the Burma Road, and its transportation infrastructure improved.
After Mao came to power in 1949, he relocated some heavy industry to Guizhou to shield it from a potential Soviet or American attack. Since China's 1978 market opening, however, investment in Guizhou has tailed off, and the province's growth rate has lagged most of the rest of China.
Population
In 2018, Guizhou's population was approximately 36 million people, accounting for approximately 3% of China's total and making it China's 19th most populous region. There are few cities in Guizhou. Its population is primarily rural and highly diverse. About 60% of its people are Han. The remaining 40% are comprised of more than 40 ethnic minority groups including the Miao, the Dong, the Buyi, the Yi, the Shui, the Yao, and the Zhuang peoples.
Economy
According to China's National Bureau of Statistics, in 2018 Guizhou had a GDP of approximately $215 billion and a GDP per capita of $5,971. Overall, its GDP accounts for 1.6% of China's total which was generated by 2.6% of China's population. Its GDP per capita is ranked 29 out of China's 33 provinces, municipalities, and autonomous regions. Primary industries accounted for 15% of its GDP, secondary industries 40.1% of GDP and tertiary industries 44.9% of GDP.
In terms of primary industries, rice, tobacco and tea are some of the region's most important agricultural crops followed by corn, wheat, barley, potatoes, oats, broad beans, rapeseed, peanuts, sugarcane, jute, sugar beets, hemp, and sesame. It also known for its production of timber, raw lacquer, tung oil, camellia oil and cypress oil. Additionally, due to its biodiversity, Guizhou produces over 3700 different herbs for industrial and medicinal uses. Guizhou also engages in animal husbandry and aquaculture.
Guizhou is rich in mineral resources. Of the 123 different mineral reserves located within the province, 22 of these mineral reserves are some of the largest in the country. As a result, Guizhou's extractive industry is a large contributor to its economy. Guizhou mines phosphorus, bauxite, coal, mercury, manganese, zinc, antimony, barite, dolomite, sandstone, lead, aluminum, copper, iron, and gold. It also mines or extracts oil, shale, phosphate, gypsum, arsenic, limestone, and fluorite. The province's bauxite reserves are the largest in China, accounting for 28% of the country's total reserves. Additionally, it has the largest reserves of coal in southern China, 44% of national phosphorus reserves, and 38% of mercury reserves.
Guizhou's most important industries include liquor and beverage manufacturing, mining and coal washing, the manufacture of nonmetallic mineral products, tobacco manufacturing, raw chemical materials and products, chemical fertilizer production, mining, steel-making, agricultural machinery production, medical and pharmaceutical products, smelting and pressing of nonferrous metals, the processing of food products, the production of computers and other electronic equipment, paper manufacturing, and silk production. Guizhou is also a large power producer as well as a distributor of gas, water and electric power. Its electricity production is powered both by coal and hydropower plants. Its capital Guiyang is its most important industrial center.
One of its most important tertiary sectors relates to tourism, including restaurants, hotels and catering.
Foreign direct investment in 2018 was $824 million. Targeted investment areas included auto parts, tourism and light industries such as textiles, food processing, medicines and health products.
Lay of the Land
Guizhou it is situated in the mountainous part of the Yunnan-Guizhou Plateau in Southwest China. The plateau gradually ascends as it moves west from about 700 meters in Guizhou's eastern regions to about 2,000 meters in Guizhou's west.  The plateau is mainly comprised of limestone and basalt and has undergone much change from geological processes such as water erosion.  The province is characterized by sharply cut valleys, deep gorges, high cliffs, karst formations, and dramatic waterfalls – such as the famous Huangguoshu Waterfall in the Guizhou's southwest. Additionally, the province has over 300 basins which are wide in the middle and narrow at both ends; each basin is approximately 160 ha in size.
There are several mountain ranges in Guizhou, and overall, the province is mountainous with approximately 93% of its area covered by mountains and hills, and 62% of its area being defined by karst landforms. The Dalou Mountains in the north form the border between Guizhou and Sichuan. The Wuling Mountains in the northeast, renowned for their biological diversity, is a World Heritage Site. The Miaoling Mountains in Guizhou's center act as a watershed between the Yangtze River and the Pearl River. That said, the eastern and southern portions of the province are relatively flat.
Most of Guizhou's rivers run upstream from the Yangtze and the Xi Rivers. These include the Wujiang, the Qingshui, the NanPan, the Chishuihe, and the Beipan. All these rivers narrow as they move downstream, flowing either north, east, and south depending on the gradient that they are following. Their hydroelectric potential comes from their rapid currents and waterfalls that happen as the rivers narrow.  The province enjoys little sunshine. The capital Guiyang, for instance, has more than 260 cloudy or rainy days each year.
Interesting Aspects for a Traveler
Visitors should prepare themselves for some of China's spiciest food; Guizhou people boast that although "Sichuan people are not afraid of spicy food, Guizhou people are afraid of food that is not spicy".  Guizhou is equally renowned within China as the home of Moutai (Maotai), China's most famous liquor. Though not to the taste of many westerners, it is exported to more than 100 countries but, at 53% abv, it is not for the faint hearted.
A visit to Guizhou usually begins at Guiyang, the capital's province. Guiyang boasts several temples and pavillions including the famous Jiaxiu Pavillion, the Ming-era Cuiwei Gongyuan temple, Wenchang Pavillion and the 17th century Hongfu Temple- reached either by cable car or by hiking up Qianling Mountain. Qianling Park, a massive park which takes its name from Qianling Mountain, has been labeled an AAAA National Tourist Attraction. As well as the mountain and temple, its other sites include the Macaque Garden, Kylin Cave, the Qianling Zoo and Qianlin Lake.
Kali, 195 km east of Guiyang, is a good place to visit a number of the Miao minority villages dotting surrounding rural landscape including Xijiang, Langde, Leishan, Shiqiao, Matang, Longli, Basha and Zhaoxing, all of which have their own character, traditional architecture, and host excellent markets where silver, embroidery, musical instruments and other local handicrafts can be purchased.
Just 30 kilometers south of Guiyang is the Ming-era, walled-town of Qingyan which has a Catholic Church as well as Buddhistand Daoist temples, and provides an atmospheric change from the bustle of Guiyang.
The Huangguoshu Waterfall, in western Guizhou, is one of the largest waterfalls in China at 77.8m tall and 81m wide. Behind the Huangguoshu Waterfall is the "Water-Curtain Cave", where the massive waterfall can be experienced from a completely different angle. Huangguoshu Waterfall is a part of an extensive geological karst complex formed by having water wear away at the limestone underneath; sightseeing cars connect other geological features of this complex including the smaller Doupotang and Luositan Waterfalls. Close to these waterfalls are the massive Longgong and Zhijin Caves. At 10 km long and 150m high, Zhijin Cave, for instance, is the one of the biggest caves in the world, and the largest in China.
Several local villages around the waterfall are also worth a visit including Ming-era Tianlong, charming Yunshan and historic Benzhai. Weining, a seven hour drive from Guiyang, is renowned for its Caohai Lake, one of the world's best spots for bird watching.
The north of Guizhou is visited most for its natural features including the Shizhangdong Waterfall, which is just a meter shorter than the much more famous Huangguoshu Waterfall. Other natural sights include Yanzuyan National Forest Park, known for its red rock formations, and the Jinshagou Nature Reserve which makes a home for the surrounding bamboo forest and indigenous alsophila ferns.