Hunan Province
Background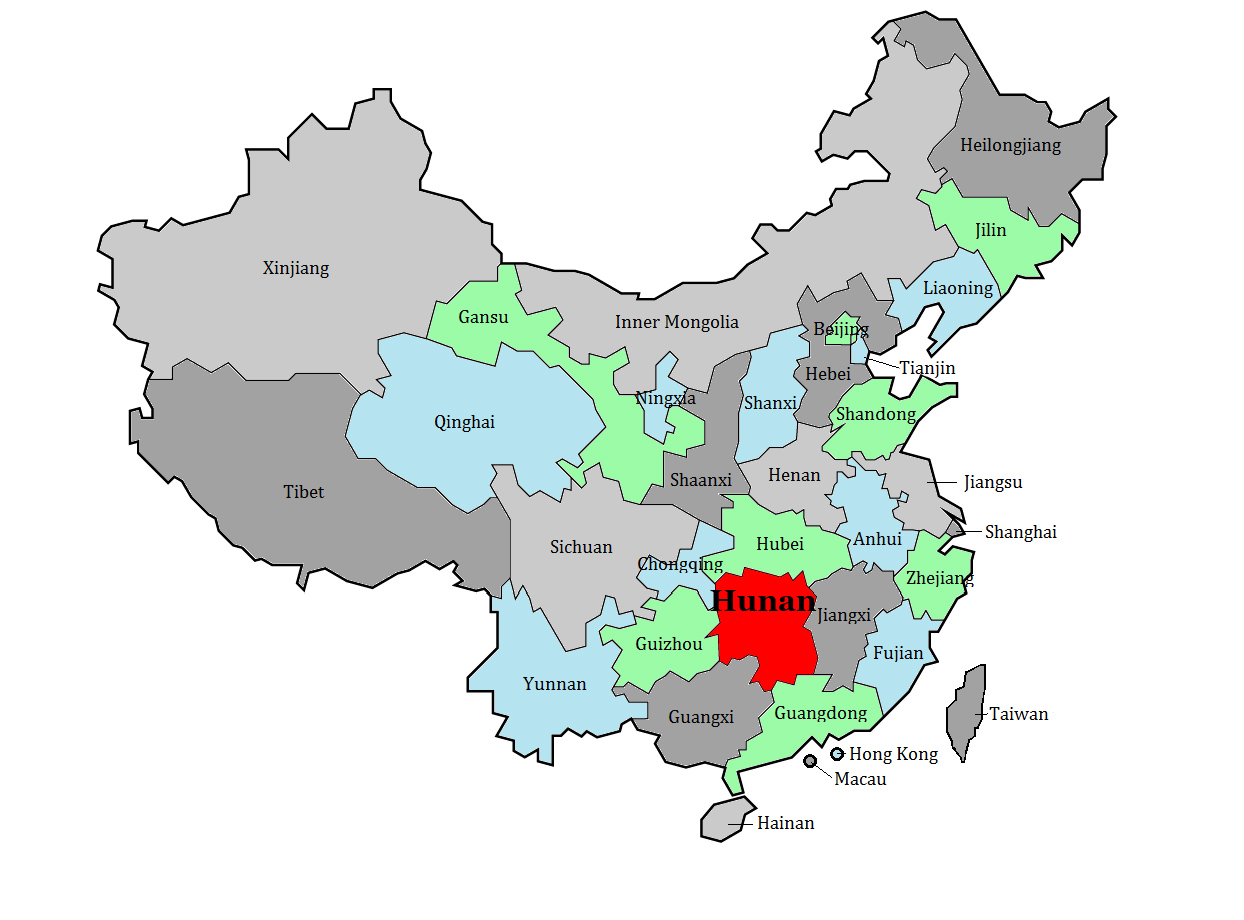 The birthplace of Mao Zedong, Hunan covers an area of 210,000km2, making it roughly the size of Belarus. Located in the south of China, Hunan is bordered by Hubei to the north, Jiangxi to the east, Guangdong to the southeast, Guangxi to the southwest, and Guizhou and Chonginqing to the west. The name Hunan comes from the Chinese words hu (lake) and nan (south) – and was so named to indicate its location south of the extensive Dongting lake which is fed by the Yangze River.
Hunan was first recorded as being part of dynastic China in 350 BCE. Hunan's land is highly fertile, and for centuries, Hunan shipped its surpluses north.  Eventually persistent Han immigration from the north and high birthrates caused overcrowding which led to both increased tensions between the Han and the province's indigenous ethnic minorities, and to general peasant uprisings such as the 1850-1864 Taiping Rebellion which swept into the Hunan from Guangxi and laid waste to much of the province. In the 1920s, Mao Zedong capitalized on peasant discontent to organize the Autumn Harvest Uprising of 1927 which established a short-lived Hunan Soviet. Nationalist troops eventually forced Mao and his communists forces out of Hunan, and on what became known as the Long March –  an epic retreat covering almost 12,500 km which took the Communists to China's remote northwest where they rebuilt their numbers after being almost entirely wiped out.
Population
In 2018, Hunan had a population of about 69 million, making it China's 7th most populous region. Roughly 90% of the population is Han. Four main ethnic minorities account for much of the remaining population – the Miao, the Tujia, the Dong and Yao. Most of the Miao and Tujia inhabit Hunan's northwest. The Dong live primarily in autonomous counties in Hunan's west while the Yao live throughout the mountains of Hunan's west and south.  Many of Hunan's rural villages are small. Some are entirely settled by one extended family.
Economy
According to China's National Bureau of Statistics, in 2018 Hunan's GDP was approximately $509 billion, the 9th largest in the country. Its per capita GDP was approximately $7,372. Overall, its GDP accounts for 3.8% of China's total which was generated by 4.9% of China's population. Its GDP per capita is ranked 17th out of China's 33 provinces, municipalities, and autonomous regions. Hunan's primary industries accounted for approximately 10.7% of GDP, secondary industries 40.9% of GDP and tertiary industries 48.4% GDP.
Due to Hunan's subtropical temperate climate and its abundant rainfall and sunshine, agricultural is a significant economic driver. Its main crops are rice, cotton, citrus fruits, tea, and tobacco. Other crops include sweet potatoes, maize, barley, kaoliang, garden peas, buckwheat, rape, ramie, jute, peanuts, pears, peaches, and chestnuts. Hunan ranks as one of China's biggest rice producer and exports its rice surplus to other provinces; most of its arable land is in fact used for rice paddies. Despite its high yields, most of its farms remain quite small, and most farming is done by hand. Hunan also has substantial timber reserves, although these were heavily plundered during the early 20th century. A small fishing economy thrives off Hunan's lakes, rivers and ponds. Animal husbandry is also practiced, and pigs provide the rural population with a significant source of additional income.  It is estimated that animal husbandry and dairy sales account for approximately 30% of total primary industry GDP.
Mining is becoming an increasingly important sector of Hunan's economy, and Hunan enjoys large deposits of coal as well as iron ore, bauxite, barite, tin, manganese, antimony, lead, zinc, tungsten, molybdenum, bismuth, niobium, graphite material, and tantalum. The main coal measures are in the south; Hunan exports some coal and iron ore to Hubei to provide resources for Wuhan's iron and steel works. Hunan is one of China's largest producers of tungsten. While Hunan uses some of its coal to fuel the province's power plants, a remarkable 40% of its power is generated by small and medium hydroelectric stations scattered along its rivers.
As China's manufacturing has migrated westward, Hunan has seen its industrial sector grow. Specifically, Hunan has seen many manufacturing industries from Guangdong, Zhejiang, Beijing, Fujian and Shanghai relocated to the province. Its main industries include iron, steel and nonferrous metals production, aluminum smelting, machinery production and chemical fertilizers. It also engages in food processing, the production of electrical equipment, automobile production, the supply of electric power and heat power, and the manufacture of textiles such as embroideries, duck-down quilts, umbrellas, and leather goods. Other Hunan products include hand-crafted jade, world-renown fireworks, and porcelain cast in pottery kilns some of which date from the Tang Dynasty. More recently, Hunan's government is making efforts to expand its high-technology and new material industries.
In terms of tertiary industries, Hunan has a strong entertainment sector specializing in television, culture and sports. Hunan also has many historical heritage sites, and tourism is a steadily growing industry.
In 2017, Hunan's foreign direct investment was $14.5 billion. Hong Kong was Hunan's leading investor followed by Taiwan, the US and Japan.
Lay of the Land
Hunan rests on the south bank of the Yangtze River, about mid-way along its length. 80% of Hunan is covered with mountains and hills. The Wuling Mountains and Xuefeng Mountains in the west, the Nanling Mountains in the south, and the Luoxiao Mountains in the east box in Hunan from three sides while the Xuefeng Mountains lie at its center. Through Hunan's mountains run the Xiang, Zi, Yuan and Lishui Rivers which all merge into the Yangtze River at Lake Dongting in Hunan's north. Only part of the Lin Stream flows into the Yangtze directly without first going through the lake.
Lake Dongting is Hunan's biggest lake and China's second largest, exceeded only by Lake Poyang in Jiangxi. Dongting Lake is broad and shallow. Its water level alters significantly between summer and winter. A portion of Lake Dongting has been transformed into agriculture land effectively breaking what was once one large lake into many smaller lakes.  The large Dongting Lake plain abuts the Hubei Plain, both of which are part of the large floodplain of the Yangtze River. Much of the Dongting Lake plain is at risk of flooding during the spring and summer melts. An extensive levee and pumping system have been designed to keep the waters at bay. The pumps also aid with crop irrigation.
Interesting Aspects for a Traveler
The historic area of Hunan's capital Changsha was consumed by fire during the 1937-1945 Sino-Japanese war which led to World War II. Changsha is mainly of interest today due to its importance to China's Communist movement and due to the fact that Hunan was the birth place of Mao Zedong, the leader of China's Communist movement. Many of its sights pay homage to Mao such as the Changsha Municipal Museum – which also has an interesting jade, ceramic and painting collection, Orange Isle about which Mao wrote a poem and where a bust of Mao now stands, and the Hunan County No 1 Teachers' Training School where Mao studied between 1913 and 1918. Yuelu Hill Park, located in the western suburb of Changsha, is one of Changsha's remaining historic areas, and houses Aiwan Pavillion and Yunlu Palace. The park spans an area of about 5 sq km.
Hunan food is renowned throughout China for being both delicious and incredibly spicy. In fact, it competes with Guizhou and Sichuan for the title of the spiciest food in the country and Changsha is a great place to find out why.
North of Changsha, Dongting Lake, spans an area of 2820 km2. The lake is split into five parts: East, South, West, North, and Datong Lake. Dongting Lake is abundant with animal and plant life, especially in the East Dongting Lake, which is a major habitat for birds.
Hunan's north is also home to the Wulingyuan Scenic and Historic Interest Area, a UNESCO World Heritage Site. Its quartzite-sandstone geography has been worn over time to form an unique and striking landscape dominated by mountain peaks and over 3000 karst pinnacles formed by water erosion.  The Wulingyuan Scenic and Historic Interest Area covers 264 sq km. Over 3000 different plants make their home in the park as well as elusive wildlife.
South of Changsha is Heng Shan, one of China's five Daoist sacred mountains where many an ancient dynastic emperor came to worship. Daoist Temples are scattered amongst terraced fields, pine forests and streams and waterfalls. Good and often steep hiking trails climb Heng Shan's many peaks.
Also south of Changsha is Shaoshan, Mao Zedong's hometown in which can be seen Mao's childhood home, Nan'an school where Mao was first educated, the Museum of Comrade Mao, and the Dripping Water Cave where Mao retreated for 11 days before the launch of the Cultural Revolution. The town is something of a pilgrimage for the most committed loyalists to the Chinese Communist Party.
Western Hunan is home to Hongjiang Old Town, once an important Qing-era village where opium made its way to southwest China. Today it retains much of its ancient character.
Narrow roads and alleys pass by ancient and restored buildings sign-posted to indicate their original brothel, tax office, opium shop and other functions.
Also in the west are Fenghuang and Dehang, both well preserved villages retaining much ancient character. Both villages are characterized by narrow lanes, old architecture and have Miao and, in the case of Fenghuang, Dong ethnic influences. Fenghuang sits along the Tuo River. Dehang is set in beautiful countryside characterized by farmed hillside terraces.