Yunnan Province
Background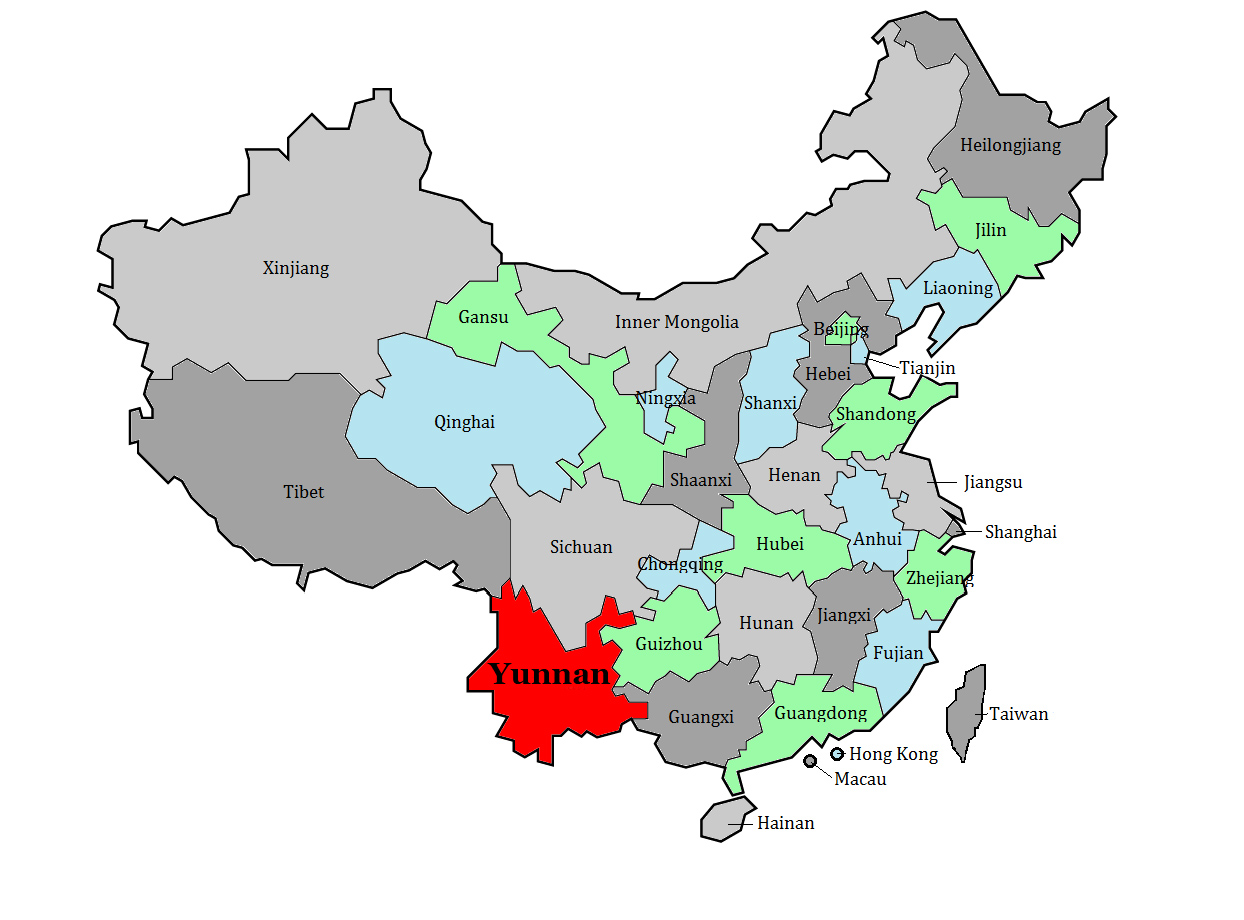 Bordered by Tibet to the northwest, Sichuan to the north, and Guizhou and Guangxi to the east, Yunnan covers a total area of around 394,000 square kilometres, making it roughly the same size as Germany. Yunnan also borders Laos and Vietnam to the south, and shares a large border with Myanmar to the southwest. Many of Asia's great rivers zigzag across its land including the Yangzi, Mekong and Salween.
Highly ethnically diverse and geographically remote, Yunnan long resisted becoming part of the Chinese empire. The Chinese held tentative control over the area and its trade routes during the Han Dynasty, but these were ceded to the kingdoms of Nanzhao and Dali by the 7th century. Only when the Mongols re-conquer the territory during the Yuan Dynasty did Yunnan finally become a province of China in 1276.  Soon thereafter, Marco Polo was purported to have travelled through the area. Large subsequent Hui people migration into Yunnan only served to increase its sense of being separate from the rest of China. This sense of difference was reinforced by its then isolated position on China's frontier. From the Ming Dynasty onward, the Chinese Court tried to quell Yunnan's independent leanings by encouraging Han migration into the region.
The 1937-1945 Sino-Japanese War which led into World War II was the changing point in how Yunnan viewed itself in relation to larger China. War brought industrialization to Yunnan as the Nationalists began developing its industry as part of its war effort against the Japanese. Yunnan's development was aided by being a corridor for the Burma Road over which the Allies shipped supplies to China. Yunnan was also home to the Kunming airbase used by America for anti-Japanese bomber raids. Its industrialization and the important role it played in China's defense served to integrate Yunnan more firmly into China, both economically and psychologically. Its modernization and industrialization continued after the founding of the People's Republic in 1949, as the Chinese Communist Party designated Yunnan as a place in which they would make significant industrial investment.
People
The population of Yunnan is around 48 million, making it the 12th most populous region in China. Yunnan is ethnically very diverse, home to more than 25 different ethnic groups including the Yi, Bai, Zhuang, Dai (Thai), Hui, Hani, Miao, Lahu, Yao, Tibetan, Pumi, Nu, Jinuo, and Naxi peoples.
The Han form most of the city dwellers and rice farmers in the central plains and valleys. The non-Han peoples tend to congregate in Yunnan's less accessible areas, but no one minority dominates any single area. The Yi are the province's largest minority followed by the Bai.
Economy
According to China's National Bureau of Statistics, in 2018 Yunnan's GDP was approximately $292 billion, the 19th largest in the country. Its per capita GDP was approximately $6,052. Overall, its GDP accounts for 2.2% of China's total which was generated by 3.5% of China's population. Its GDP per capita is ranked 26th out of China's 33 provinces, municipalities, and autonomous regions. Hebei's primary industries accounted for approximately 14.6% of GDP, secondary industries 37.9% of GDP and tertiary industries 47.8% GDP.
Although only 6% of Yunnan's land is arable, agriculture plays a significant role in Yunnan's economy. Due to its diverse topography, Yunnan produces a wide variety of crops including peaches, persimmons, walnuts, chestnuts, corn, sweet potatoes, sugarcane, beans and peas. Grain and commercial crops include rapeseed, wheat, barley, cotton, tung oil, medicinal herbs and hemp. Of these crops, rice is by far the most important. Since the 1980s, Yunnan has developed its cut flower industry which now sells both domestically and internationally. Yunnan's Pu'er tea is also sold worldwide. Yunnan raises livestock including water buffalo, ponies, mules, cattle, sheep, goats, and pigs.
Yunnan also hosts some of the greatest plant and animal biodiversity to be found in China. Of China's approximately 30,000 different plants, more than half are found in Yunnan, including 6,000 medicinal herbs.
Yunnan's western canyon region holds significant timber reserves, some of the largest in China. A rapid acceleration of timber production after 1978 led to rapid deforestation and erosion. In the late 1990s, the government began developing environmental regulations and a timber resource management program. Now the timber industry is strictly regulated. Yunnan also has significant reserves of tin, copper, lead, zinc, tungsten, mercury, aluminum, germanium, indium, zirconium, rock salt, nickel, sylvite, phosphorus, mirabilite, arsenic, blue asbestos, silver, gold, manganese, marble, bauxite, and potassium nitrate.
Yunnan is a large producer of electric power, and it exports its surplus electricity to neighboring countries. Increasingly, its power is generated by hydroelectricity. Power is also generated by thermal energy, and some petroleum and natural gas reserves have also been discovered in Yunnan's southwest and east.
Like Gansu, after 1949, Mao began locating industries in Yunnan both for protection and so that they were close to Yunnan's mining resources. The Kunming region, for instance, has become a giant industrial metropolis. It houses steelworks, iron and copper-smelting facilities, fertilizers, machinery, trucks and automobiles manufacturing plants, industrial chemicals producers, building material manufacturer in s, optical instruments, textiles, and processed foods. In other parts of the province, Yunnan processes tobacco, tea, and sugar. Yuxi, Kunming, and Qujing are all known for their cigarette production. Tourism is a growing area of the economy.
Hong Kong was Yunnan's largest source of foreign direct investment in 2017 amounting to $824 million or 86% of Yunnan's utilized FDI.
Lay of the Land
Many mountain chains run across Yunnan, most originating in the Yunnan-Guizhou plateau and then branching out as they stretch southeastward across the province. The main mountain ranges include the Gaoligong, the Nu, and the Yun mountains. The smaller Wuliang, Aliao, and Wumeng ranges fork off from the Yun. West of the Ailao mountains is Yunnan's canyon district where peaks can reach as high as 5,500 meters but drop to 1,800 meters as the mountains extend south. Flowing through canyons of these mountains are the Salween (Nu), the Mekong (Lancang), the Black (Lixian) Rivers. In the Canyon area's far west, in the Bao Mountain Range, there are active volcanoes.
East of the Ailao, the Yunnan-Guizhou Plateau averages between 2000m in elevation in the west to 1300m in the east. The Plateau is filled with rolling hills, smaller mountains, river-carved gorges, karst scenery and geological faults. Eastern Yunnan is riddled with rivers, the largest which is the Yangtze. Other eastern Yunnan rivers include Yuan River which eventually flows into Vietnam, the Nanpan River which is source of Guangxi and of Guangdong's Xi River system, and Pudu, Niulan and Heng rivers which converge on the Jinsha River. Yunnan also has abundant lakes such as Lake Dian in Kunming and Lake Er in Dali.
Interesting Aspects for a Traveler
Called the City of Eternal Spring due to its year-round mild weather, Kunming is the capital of Yunnan. Rapid modernization has to some extent impinged on what are its naturally laid back vibe, cosmopolitan feel and beautiful lake views. During WWII, Kunming enjoyed rapid growth as factories were built and workers flocked to the area from eastern China to escape the Japanese threat. It was also the terminus of the Burma Road which was used to ship supplies into China after Japan began blockading China's eastern seaboard during the Sino-Japanese War.
Kunming is home to many temples including the Yuantong Si – Yunnan's largest Buddhist complex and well-known pilgrimage spot, the Zhenqing Guan – a Daoist temple built in 1409 to honour the warrior deity Zhen Wu, the Buddhist 13 story Tang-era Xi Si Ta, the Jin Dian Golden Temple, and the Tang-era Qiongzhu Si Bamboo Temple famous for its clay sculptures.
40 kilometers from Kunming, Lake Dian is surrounded by picturesque fishing villages and pavilions; traditional Chinese junks ply its waters. On the northeast corner of the lake is the Yunnan Nationalities Museum.
125 kilometers from Kunming, China's Stone Forest is an excellent example of karst geology where massive limestone pillars eroded by wind and water stand in bizarre formations, some as high as 30 metres. To the south of the Stone Forest is the town of Jianshui known for its large Confucian temple and for its Swallow Cave in which hundreds of thousands of swallows swarm during spring and summer. Further south still are the rice lands around Yuanyang where ancient villages sit prettily amongst acres of agriculture.
125 kilometers from Kunming, China's Stone Forest is an excellent example of karst geology where massive limestone pillars eroded by wind and water stand in bizarre formations, some as high as 30 metres. To the south of the Stone Forest is the town of Jianshui known for its large Confucian temple and for its Swallow Cave in which hundreds of thousands of swallows swarm during spring and summer. Further south still are the rice lands around Yuanyang where ancient villages sit prettily amongst acres of agriculture.
The city of Dali lies in Yunnan's north; its old town is surrounded by Ming-era walls. Old town Dali is known for its cobbled streets, stone houses and tall pagodas. Dali is situated on the south of Er Hai or Ear-Shaped Lake which is good for biking and hiking. Dali is also a good base from which to visit the minority Bai villages surrounding the city with their plentiful markets, or to climb the Cang Shan Mountains dotted with temples.
Close to Dali is Jizu Shan or Chicken Foot Mountain, a popular destination for Buddhist pilgrims. It is one of China's holiest peaks in remembrance of the acclaimed Buddhist Monk Jiaye who is said to have brought Buddhism from India to southern China. The most famous temple on Chicken Foot Mountain is the Tang-era Zhusheng Temple.
At the northern tip of Yunnan and at an elevation of 3200m is Zhongdian, now known as Shangri-la, although there is no real evidence that this is the site of the legendary place about which that James Hilton wrote. Zhongdian is culturally Tibetan, and is home to one of China's most beautiful monasteries.
Further north still and reaching an elevation of 3550 metres, Deqin is near beautiful Mount Kawa Karpo, situated in rugged, wild scenery. 80% of the population is Tibetan, the remaining 20% made up of a mix of ethnicities including Han. Close to Deqin is the Feilai Si temple devoted to the spirit of the Kawa Karpo. Falling from one side of the Kawa Karpos is the 13 km Mingyong Glacier which can be accessed by hiking trails.
The Xishuangbanna region of Yunnan's south shares bordering Myanmar and Laos' tropical climate and abundance of sunshine. In this region, about a third of its population are Dai, a third are Han and the rest are a mix of minorities including the Hani, Lisu and Yao. The capital of this area is the palm-lined Jinghong which makes a good base for hiking, visiting the surrounding minority villages and visiting the Sanchahe Nature Reserve. Much of Xishuangbanna is rainforest, and is home to a wide diversity of plants, animal and birdlife.
Lijiang lies on the ancient Tea Horse Trading roads. Less well-known than the Silk Road, but as significant to the exchange of ideas, people and religions, the Tea Horse Roads or caravan routes led from Southwest China through Tibet to India. The roads were most actively used during the Tang and Song Dynasties when the Chinese traded tea for fleet-footed Tibetan horses. Sugar, salt and other goods were also carried on the caravans. Buddhist monks, Christian missionaries and foreign armies also utilized the trails. In the 18th century the trade routes went into slow decline, but were revitalized again as part of the Burma Road during WWII.
Lijiang is a one day bus tour from the Tiger Leaping Gorge one of the deepest gorges in the world where peaks of over 4000 meters box in the Jinsha River. It makes for excellent hiking, but the gorge and river can also be seen from viewing platforms.